Bushnell and Parfitt adopt new roles within the Group
In pursuit of its strategic objective to extend its global reach, scale and solutions, Systems Union Group has promoted two members of its senior management team.
Chris Bushnell, formerly EMEA partner sales director for SunSystems, has been promoted to managing director of CEEMEA for SunSystems, a newly-formed region comprising Continental & Eastern Europe, the Middle East and Africa.
Paul Coleman, chief executive officer for Systems Union, said: "Chris has consistently demonstrated his ability to understand and meet the evolving needs of our customers and partners and has made an invaluable contribution to the strengthening of the SunSystems business in EMEA.  In creating this new operating region – particularly in light of the recent increased size of the European Union – we are confident that we will improve our geographic coverage."
Additionally, Tony Parfitt has been appointed chief financial officer of the global Business Intelligence Division, which comprises MIS and the recently acquired Lasata Software.
Coleman continued: "The growth of our new Business Intelligence Division is picking up pace. We are now able to provide a unique portfolio of fully integrated financial and business intelligence solutions from a single source with an 'open' agenda, accessing not only financial applications but also many other business applications. Tony has also shown a very solid and consistent performance as chief operating officer for SunSystems in Continental Europe. We believe that as chief financial officer for the Business Intelligence Division he will continue to add significant value."
[Note: EMEA = Europe, Middle East & Africa]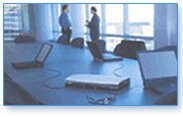 SunSystems is a portfolio of integrated financial management and business intelligence applications, which help decision-makers gain a broader perspective on the business, and provide the ability to analyze the operational detail.
For more than 20 years, we have delivered global, low-risk solutions that are designed for rapid, low-cost deployment, helping our users to meet the demands placed on the finance function.
To find out more about our solutions, click here.