Business systems provider added to leading global software group
Systems Union Group plc, the global software vendor, has acquired the customer base, assets and intellectual property rights of London-based ncSoft Limited, an author and provider of business and financial systems, for a consideration of approximately £0.5 million. For the year to 30 June 2003, ncSoft had an annual revenue of £1.2 million.
Founded in 1991, ncSoft operates across many sectors including professional services, financial services, public sector, pharmaceuticals, utilities and manufacturing. Customers include the Royal National Theatre, a consortium of Scottish further education colleges, St Paul International Insurance and Wandle Housing Association.
ncSoft is a channel partner for SunSystems software solutions, as well as developing its own range of web-based applications such as procurement, time management and expenses automation. Its brands include ncProcurement, ncTime, ncExpense and ncSoft eBusiness Suite.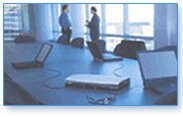 SunSystems is a portfolio of integrated financial management and business intelligence applications, which help decision-makers gain a broader perspective on the business, and provide the ability to analyze the operational detail.
For more than 20 years, we have delivered global, low-risk solutions that are designed for rapid, low-cost deployment, helping our users to meet the demands placed on the finance function.
To find out more about our solutions, click here.